Enlisted (E-1 through E-9), Warrant Officer (CWO-1 through CWO-5), Commissioned Officers (CO-1 through CO-5), and Admiral ranks comprise the United States Navy Ranks (CO-6 through CO-10). The letter and number represent the Seaman's rank title and pay grade. It is critical to remember your job responsibilities as well as your leadership responsibilities.
Navy Corps officers are responsible for the administration, operation, and protection of Navy property. The Navy Corps offers a variety of career opportunities in both active duty and reserves. They also help those who qualify with their education. Then what are the Navy ranks in order? If you want to serve your country by joining the Navy, read this blog post to learn more about what it's like before you commit. Let's get started with our ASVAB practice test 2023 and make your goal a reality!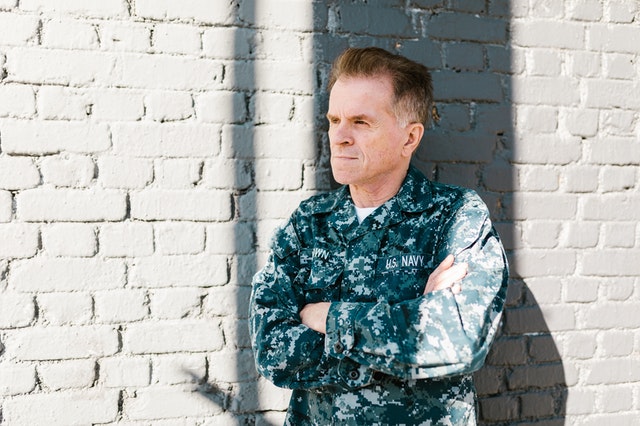 Navy Ranks – Enlisted Sailors
Enlisted sailors are divided into three categories: Apprenticeships (E-1 through E-3), non-commissioned Petty Officers (E-4 through E-6), and senior non-commissioned Chief Petty Officers (E-7 through E-9).
Seaman Recruit (E-1)
E1 is the first enlisted rank upon joining the Navy and is known as an "apprentice in training." In basic training, they immerse themselves in the military culture, learning fundamental skills needed for their future career in the Navy. The E1 should expect to obtain an occupational field, otherwise known as a rate, which falls under five main categories: Seamen, Firemen, Constructionmen, Airmen, or Hospitalmen. The rating assignment further breaks down into specialty subcategories, such as Machinist's Mate (MM), Sonar Technician (ST), or Hospital Corpsman (HN).
Seaman Apprentice (E-2)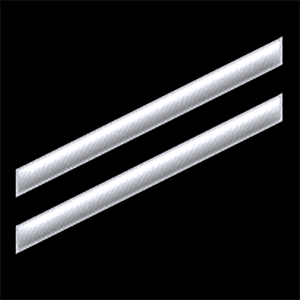 Once a rate is assigned, a Seaman recruit becomes a Seaman Apprentice. While it provides opportunities for Seamen Recruits to receive training and experience in a particular occupational field as they progress through their Navy careers, E2 is still considered a junior-enlisted rank, and the role is similar to that of the E1. Common job duties continue. Promotion will come when the sailor has completed six months of service (determined by job performance and standing record of exemplary service.)
Seaman (E-3)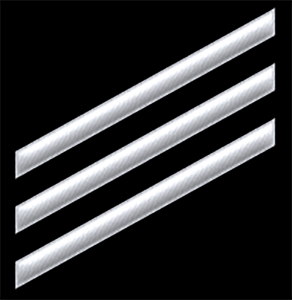 Seaman is the third-lowest enlisted rank before the promotable Petty Officer. All basic qualifications are met. Their competency around the ship means more job responsibilities including essential maintenance and watchstanding.
Petty Officer 3rd Class (E-4)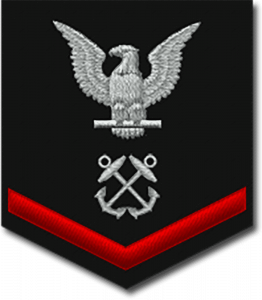 Sailors who reach junior Petty Officer have made it to the Fleet. The E4 maintains regular labor duties, but much of what is learned in training now shifts into leadership roles. E4s should be self-sufficient leaders and begin mentoring junior sailors. Qualifying for extra-duty assignments above the standard job specifications, called Collateral Duties, are the key to progressing in their career. Collateral Duties can either be service-related or specialized duties (for example, command career counselor, command equal opportunity coordinator,…)
Petty Officer 2nd Class (E-5)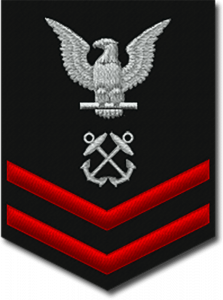 The E5 is considered a mid-grade Petty Officer. They are supposed to be self-reliant leaders and do not need much oversight from their seniors. 2nd Class Petty Officers mentor junior Seamen to ensure work performance, professional development, and training. Leadership skills improve with years of experience, and those who are selected for C-School obtain technical expertise at their rate, much like studying for certification.
Petty Officer 1st Class (E-6)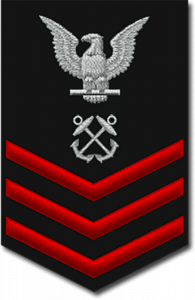 Petty Officer 1st Class is considered a high-grade Petty Officer. The E6 has a leadership part in a Division team, a smaller group within a Department that includes 5-50 sailors (For example, Work Center Supervisor.) They delegate tasks and handle the most complex tasks. Some responsibilities consist of managing more significant resources, such as expensive technical equipment, repair shop personnel, and large duty sections.
Chief Petty Officer (E-7)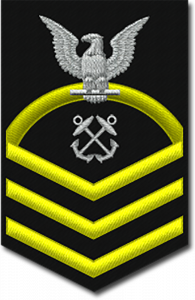 The Chief Petty Officer is considered the "ground level" leader of the Navy. Sailors will hold the same regard for Chiefs as they do for Officers. According to the Master Chief of the Navy (MCPON), the Chief Petty Officer utilizes skills to direct sailors toward accomplishing the Navy's mission. They work in conjunction with the Division Officer, taking care of personnel and equipment issues.
Senior Chief Petty Officer (E-8)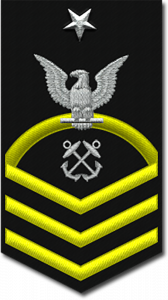 At this rank, the Senior Chief commands a higher level of technical and managerial expertise. They are considered as the senior technical supervisor within a rating. An E8 has more influence in the Chiefs' Mess (a group of Petty Officers that work closely together) and has responsibility for training new Chiefs.
Master Chief Petty Officer (MCPO/E-9)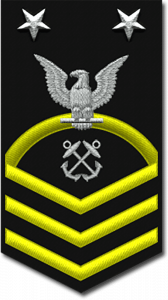 Master Chief is the most distinguished Petty Officer. They are also known as "Department Chiefs." E9 officer is highly credentialed in their expertise and holds the most authority in large Departments. As Master Chiefs, they're responsible for maintaining unity, communication, and cooperation in the Chiefs' Mess.
Command Master Chief Petty Officer (CMC/E-9)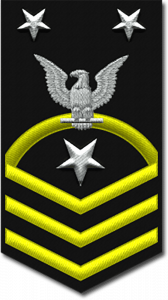 It's a Senior Enlisted Advisor rank. CMC is the leading Chief aboard ships or shore-based units and acts as a bridge between enlisted officers and the commanding officer. As the principal enlisted advisor to the commanding officer, the CMC is supposed to create and enact operational and human resource policies.
Master Chief Petty Officer of the Navy (MCPON/E-9)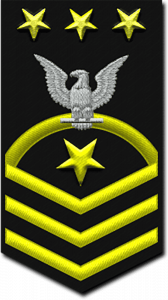 The MCPON is considered the most senior Enlisted Senior Advisor. By and large, the MCPON represents all enlisted members and their families in the U.S. Navy. Their duties adapt according to the needs of the Chief of Naval Operations and Chief of Naval Personnel. Over the course of two years in term, the MCPON has to travel to meet with service members and their families to address the concerns and issues of the fleet.
Senior Enlisted Advisor to the Chairman of the Joint Chiefs of Staff/ SEAC
The Senior Enlisted Advisor to the Chairman of the Joint Chiefs of Staff is the main advisor to the chairman and plays a vital role in decision-making for the enlisted joint force.
Navy Officers Ranks
Warrant Officers 
Warrant Officers are Navy Officers who are Navy enlisted specialists in a particular field of work in their technical expertise. There are currently 27 designated specialties (e.g., electronic techs, software experts, pilots.) A Senior Navy Enlisted with a pay grade of E-6 and above are qualified to apply for the Navy's Warrant Officer program
In addition to their fields, Warrant officers must also be experts on Navy traditions and customs. Service members have at least 14 years of considerable leadership and technical experience prior to applying for the program.
While deployed at sea, they assure the maintenance of equipment and ensure communication throughout the chain of command. Other roles like Naval Warrant Officers take part as executive, Division, and commanding officers.
Chief Warrant Officer (WO-1)

The WO1 rank was retired in 1975 but reinstated in 2018 to establish the new cyber warrant officer position. A warrant is the only way a candidate can receive this rank. Once appointed, the service member commits to at least 6 years of service as WO1.
This Navy Corps Rank is unlike any other. Serving in the Navy for a long time with leadership experience, experts on Navy tradition and customs are eligible to join this rank of Warrant Officer.
Chief Warrant Officer (WO-2 through WO-5) 
This is the first rank newly appointed to a Chief Warrant Officer. A WO2 must have at least 12 years of active duty experience and 3 years in grade to be eligible. Enlisted rank determines the WO pay grade. Generally, the E8 will be appointed to WO2. Master Chief Petty Officers (E9) will be appointed the pay grade WO3.
Once accepted, the WO attends an Officer Development School to ensure a smooth transition in their role. Advancement depends on vacancies and grade seniority or years of experience.
Commissioned Officers (CO)
Ensign (O-1)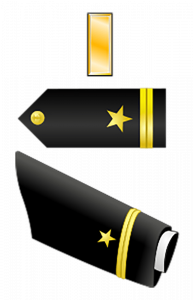 Ensign is the initially commissioned officer rank. Applicants receive this rank after completing their commissioning through the United States Naval Academy (USNA), Navy Reserve Officer Training Corps (NROTC), or Officer Candidate School (OCS). The majority of Ensigns attend schools to learn their jobs; others serve in the Fleet as Divisions Officers. Promotion can come anywhere from weeks to two years depending upon the ability to lead Division.
Lieutenant, Junior Grade (O-2)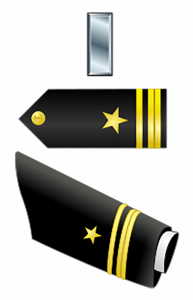 A Lieutenant, Junior Grade, which is the second-lowest officer rank, is a Navy officer who ranks between Ensign and Lieutenant. An O2 may be in training for their specialty or serve in the Fleet as Division Officers. Promotion to this grade can take after two-year maintenance of their role.
Lieutenant (O-3)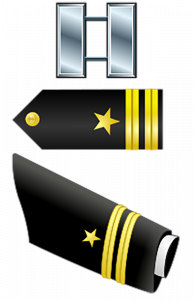 A Lieutenant is considered a third-rank officer. A Navy lieutenant will typically serve as Division Officers with additional responsibility for training other officers in their division OR tactical watch teams and casualty situations. A lieutenant may assume charge of smaller ships, aircraft squadrons, submarines, or ships. Some commands require the LT to act as Department Heads.
Lieutenant Commander (O-4)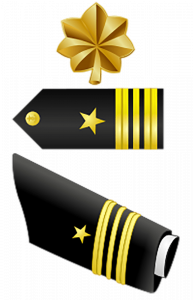 A Navy lieutenant commander, considered a fourth-rank junior officer, serves primarily as a Department Head or Executive Officer on a ship, aircraft squadron, or submarine. O4's on SEAL Teams serve as Executive Officers. Other potential assignments include Commanding Officer of a Minesweeper or Patrol Craft.
Commander (O-5)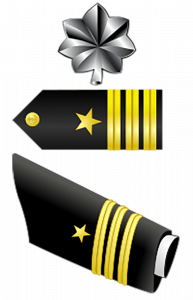 Commander is the fifth rank Senior Officer. Individuals of this rank may potentially command a Frigate, Destroyer, Fast Attack Submarine, Smaller Amphibious Ship, Aviation Squadron, SEAL Team, or shore installation.
Captain (O-6)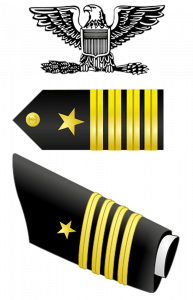 CAPTs serve as Commanding Officers of Major Commands. Such commands include Aircraft Carriers, Amphibious Assault Ships, Cruisers, Destroyer Squadrons, Ballistic Missile Submarines, Carrier Air Wings, Submarine Squadrons, SEAL groups, and shore installations.
Navy Admirals
Rear Admiral Lower Half (O-7)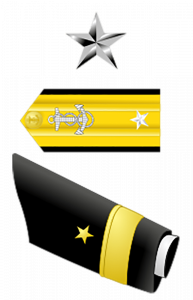 A Rear Admiral Lower Half holds one star and is the first of the Flag ranks. While at sea, the O7 commands an Amphibious Group, Carrier-Cruiser Group, Carrier, or Expeditionary Strike Group. Other assignments include serving as deputies to larger commands.
Rear Admiral Upper Half (O-8)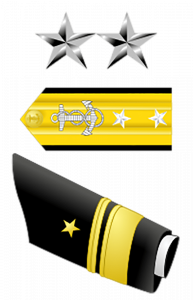 A Rear Admiral Upper Half holds two stars. The RADM is responsible for commanding an Amphibious Group, Carrier-Cruiser Group, Carrier, or Expeditionary Strike Group. They may also work as deputies to larger commands.
Vice Admiral (O-9)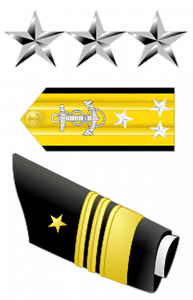 A Vice Admiral holds three stars. The VADM commands fleets and may act as deputy for regional commands.
Admiral (O-10)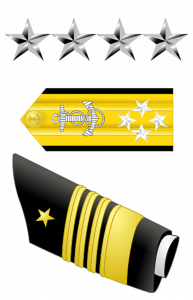 An Admiral holds four stars and is the most senior Flag Rank. An Admiral can serve as Commander of Regional Commands, Joint Commands, Chairman of the Joint Chiefs Staff, and Chief of Naval Operations.
Navy Ranks – FAQs
What is the highest Navy rank?
Admiral (or full admiral, or four-star admiral) is the highest position normally attained in the United States Navy. It is higher than the vice admiral (three-star admiral) but lower than the fleet admiral (five-star admiral).
What rank is a Navy SEAL?
The vast majority of Navy SEALs (approximately 2,000) are enlisted Navy personnel (E-4 to E-9). They are led by approximately 500 SEAL Officers (O-1 to O-10). There are also a small number of SEAL Warrant Officers (approximately 30) who rank as officers above the senior-most Enlisted but below an Officer (O-1).
What is the lowest Navy rank?
Seaman Recruit (E-1)
The lowest enlisted rank in the Navy is seaman recruit (SR), which is just below seaman apprentice.
Navy Corps Rank is a military rank obtained by joining the Navy and serving for at least eight years, or by appointment by another Navy-affiliated organization such as the Naval Academy. This article has examined the qualifications and benefits of the Navy Corps Rank to assist you in deciding whether it is worthwhile to join!
So, I hope you've already found the rank you desire.