Joining the military has long been an important aspect of American lives, which accounts for approximately 1% of the entire population. Despite its large military population, applying to any branch and passing the ASVAB Scores is a difficult challenge for (some) aspiring applicants.
Embarking on the military journey, like other life-changing courses, provides numerous chances but maybe perplexing at times, especially if you go into it unprepared. As such, you'll need to go through a series of tests to determine your profile. Before that happens, however, you will be required to complete a standardized aptitude examination set up by the US Defense Department.
The Armed Services Vocational Aptitude Battery, or ASVAB, is a multiple-choice test used to determine what branch and rank in the military you are eligible for. But what is a good score to get on the ASVAB? And What do Your ASVAB Scores mean?
General Information about ASVAB Scores
Since its first introduction in the year 1968, it has become a legalized multi-aptitude test which was eventually after 8 years, accustomed by all US military branches. As mentioned above, it is a standardized multifaceted aptitude test augmented by the US Defense Department that is functioned to serve as a determiner in knowing which department is the applicant most suited with and preferably, with higher remarks on the latter.
Each US military branch namely; Army, Air Force, Coast Guard, National Guard, Marine Corps, and the Navy have their own minimum standards which vary uniformly with their own minimum regulated ASVAB Scores.
Take note: All military branches in the United States are required to partake in this ASVAB test by legal measures and underlying regulated context. Relatively, all branches have varying criteria in which you most likely would consider fully equipping yourself according to your desired career path in any military branch.
To join the US military, you are required to first talk to a recruiter and pass the Armed Services Vocational Aptitude Battery, a multiple-choice test used to adjust qualification for enlistment and determine eligibility for a specific career in various military branches.  When you take the ASVAB test, you'd better know about 3 scores: Standard Scores, Composite Scores, AFQT Scores.
After the test, you are given a Standard Score for each of the subtests. Standard Scores are on a scale of 0 to 100 so the mean or average is set to 50. On this scale, every 10 points from the mean represent one standard deviation. This means that a 60 Standard Score would be above average. Most test-takers scores are between 30 and 70. The Standard Scores on each of the individual subtests are used to calculate other scores that determine your eligibility, branch, and rank in the military. These scores are Armed Forces Qualification Test (AFQT) scores and Composite Scores.
ASVAB Knowledge Areas
The ASVAB test contains 9 ASVAB sections:
General Sciences – quantifies prior knowledge to earth and life, aerospace sciences, and practical applications of sciences.
Arithmetic Reasoning – ability to analyze and solve simple to advanced arithmetic problems and mathematical word analysis
Word Knowledge – quantifies ability to comprehend the literal and figurative definition of words via synonymous terms.
Paragraph Comprehension – scales ability to acquire definite data from written literature or similar materials
Mathematics Knowledge – scales capacity in learning and applying mathematical concepts and subsequent derivations.
Electronics Information – scales prior knowledge about electromotive force, electric circuits, electronic devices, and electrical-related applications
Auto & Shop Information – scale prior knowledge about locomotive repair and maintenance along with metal and wood methods.
Mechanical Comprehension – quantifies knowledge about certain mechanical principles, structural backing systems, and properties of varying materials
Assembling Objects – measures ability with geometrical and spatial associations.
On this website, we offer a free ASVAB Study Guide pack for all 9 ASVAB sections. We recommend you read these study guides to grasp all the core concepts before taking our ASVAB practice tests. 
Generalized ASVAB Test Minimum Requirements
Keep in mind that this set of minimum requirements is generally organized. In other words, there may be particular differences in each branch. That being said, do call and converse with your local recruiter to better know the requirements of your preferred branch along with its underlying conditions and probable restrictions.
Applicants at the time of the test, must at the very least be 17 years of age, extending only up to 39 years of age.

Those applicants under 18 years of age must bring with them a parent's consent authorized by their parents or their current legal guardian.

For applicants that are US citizens, you must be able to show a document that proves your legal residency.

For applicants from the US commonwealth areas, you can enlist but must show certain documents which would verify your legal presence.

For non-US applicants, one must bear certain documents that validate your legal presence.

Aspired applicants must undergo a military-regulated physical evaluation.

Aspired applicants must undergo a military-regulated mental screening.

Applicants must not have any major pre-existing handicaps or any form of burden-like disabilities unless extraordinarily utilized.

An applicant must be able to pass the ASVAB test with high remarks to guarantee your spot in military service.

Aspiring applicants are necessitated to bring a high school diploma (HSD) for credibility reasons.

Those with high school diplomas usually need to achieve ASVAB scores a few points lesser than those bearing a GED certificate

Applicants who possess GED (General Educational Diploma) alone are necessitated to garner a higher score than those who bear a high school diploma.
Armed Forces Qualification Test – AFQT score
The AFQT (Armed Forces Qualification Test) score determines whether you're eligible to enlist in the US military. The AFQT score is made up of your scores on the 4 subtests: Arithmetic Reasoning (AR), Mathematics Knowledge (MK), Paragraph Comprehension (PC), Word Knowledge (WK).
Your AFQT score varies from 0 – 100. The AFQT score is calculated through a very particular process:
Calculate the total value of your Word Knowledge score and Paragraph Comprehension score. This score is called your

Verbal Expression

or VE score.

Double your VE score and then add it to your Arithmetic Reasoning (AR) score and your Mathematics Knowledge (MK) to get your AFQT Score.

Now the general equation will look like this:




Raw AFQT Score = 2 × (WK + PC) + AR + MK
Convert your raw score to a percentile score to compare your results to the results of thousands of other ASVAB test-takers. Army recruits require a minimum score of 31, Marine Corps recruits at least 32, Navy recruits are at least a 35, and Coast Guard and Air Force ASVAB score is at least a 36.
AFQT scores are divided into categories, as shown in the table below (official ASVAB website):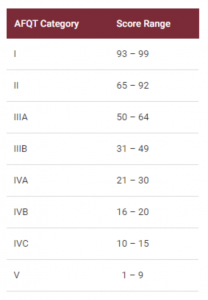 To ensure the ASVAB score of the position you pursue, you could find some more details on the official website of the ASVAB test.
COMPOSITE SCORES – MOS/JOB ASSIGNMENTS
Composite scores also referred to as the 'ASVAB line scores' or 'ASVAB mos scores are different combinations of your Standard Scores from your nine subtest score areas. These scores are used to tell you specific jobs and branches they may perform well in. The official ASVAB website wrote: "each service develops and validates its own set of composites based on the combination of subtests that are most highly correlated with an on-the-job performance for clusters of occupations." Specifically, each branch of the military determines which skills are most important. Specific subtests will show a candidate's knowledge of a particular skill. 
These are the scoring criteria in every military branch. Each may have a different composite score and this will be shown in the succeeding tables below:
Clerical = WK + PC + AR + MK

Combat = WK + PC + AS + MC

Electrical= GS + AR + MK + EL

Generalized Maintenance = GS + AS + MK + EL

Field Armament = AR + MK + MC

Generalized Technicalities= WK + PC + AR

Mechanics = AS + MC + EL

Food Operations = WK + PC + AS + MC

Survey & Communications = WK + PC + AR + AS + MC

Skilled Technicalities= WK + PC + GS + MC + MK
Take note: Knowing your score and fully comprehending its meaning is an essential factor that you need to consider. Through awareness of the result, you'll be able to know your probable weakness in one of the subject domains. Hence, this would motivate you in preparing further for what could possibly be ahead and included in the whole duration of the ASVAB test. Failing can only be in two ways; quitting after the first failed attempt or letting your mistakes be at bay, uncorrected.
Minimum ASVAB Scores on All Military Branches
All US military branch has their own set minimum standards along with the necessary ASVAB Scores to enlist in the specific branch. Relatively, the table below would show you the necessary scores to enlist in each branch from the HSD (High School Diploma) holder and the GED bearer.
| Specific Military Branch | HSD Holder | GED Bearer |
| --- | --- | --- |
| Army | 31 | 50 |
| Air Force | 36 | 65 |
| Coast Guard | 36 | 50 |
| National Guard | 31 | 50 |
| Navy | 35 | 50 |
| Marine Corps | 32 | 50 |
Take note: Every specific ASVAB test from any military branch may differ in terms of time duration and level of difficulty. However, it's worth noting that having a lesser score on one subject domain doesn't guarantee an overall failure. Conversely, just being able to achieve the minimum score for enlistment doesn't secure your spot in the service as well.
Read more >> Is The ASVAB Hard in 2022?
Understanding how ASVAB scores are calculated will assist you in developing a study strategy so that you may concentrate on certain areas in which you want to do well in and ensure that you are 100% prepared for the exam with our FREE ASVAB practice test 2022.
I hope that this information has helped you have a better understanding of "what is a good ASVAB score." Please feel free to use our sample exams to help you prepare for your next ASVAB exam. If you work hard enough, you will be rewarded.
Please email us at [email protected] if you have any questions or recommendations regarding our products.