The Coast Guard is a branch of the military with its own set of ranks. The amount of money an enlisted Coast Guardsman earns each year, as well as the types of activities they can participate in, are determined by their Coast Guard rank. This article will go over the various types of coast guard corps ranks and their duties!
Let's start practicing for your ASVAB with our free Coast Guard ASVAB practice test 2023 if you're thinking about joining the Coast Guard. There are thousands of ASVAB practice questions available for the Coast Guard.
Coast Guard Ranks – Enlisted Ranks
Seaman Recruit (E-1)
This is an entry-level position. The Seaman submits their initial assignment and holds a training status. The E1 is responsible for familiarizing themselves with the Coast Guard's culture and core skills during this time. This rank wears no insignia.
Seaman Apprentice (E-2)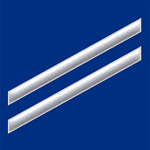 After a four-month term, the Seaman will typically promote to Seaman Apprentice formerly known as Seaman Second Class. E2 post to their first assignment at a Class "A" School or "striker" program (on-the-job training). There is no rating assigned yet, but the rank holds an insignia with corresponding colors based on the assigned group: white for deck and administrative, red for Fireman or engineering and hull, and green for Airman or aviation.
Seaman (E-3)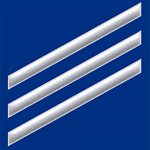 Mentioning Seaman working on deck, responsibilities can consist of maintenance and repairs, store administration, lookout, emergency security, and training under higher enlisted Seaman. Job duties may differ according to the assigned group, but generally speaking, the E3's job is to gain skills at Class A or specialty school.
Petty Officers Ranks & Insignias
Petty Officer Third Class (E-4)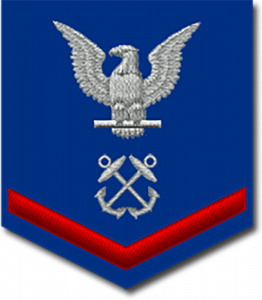 Being the lowest rank of non-commissioned officer, the E4 increasingly refines technical, specialty, and leadership skills. Their now assigned ratings are given a special abbreviated rating (e.g., Yeoman Third Class/deck and administrative.) E4s follow a track that limits them to eight years before they're promoted to Second Class or subject to involuntary separation from active duty.
Petty Officer Second Class (E-5)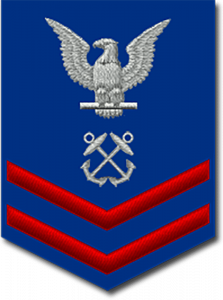 Petty Officer Second Class holds dual duties in leadership and technical roles. Like E4, Petty Officer Second Class can act as law enforcement or a federal customs officer. They are subject to "High Year Tenure" as well, and have a total of 14 years to complete advancement requirements or be involuntarily separated from active duty.
Petty Officer First Class (E-6)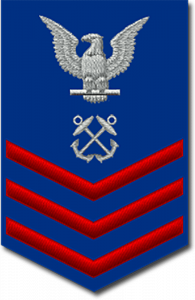 Being the third junior non-commissioned officer rank, the E6 becomes increasingly proficient in their technical specialty. The Petty Officer First Class works towards a two or four-year undergraduate degree at a "C" School.
Chief Petty Officer (E-7)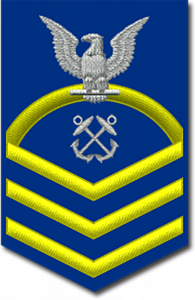 Chief Petty Officer is expected to be a key advancement in an enlisted Coast Guard career. E7s are proficient technical specialists and are typically placed on cutters (decked vessels) and boats. As leaders, they carry out administrative and leadership responsibilities.
Senior Chief Petty Officer (E-8)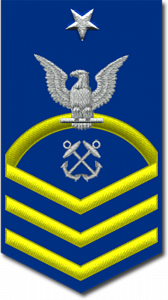 Senior Chief Petty Officer or "Senior Chief" has job responsibilities that are similar to that of the E7 but assumes more authority in administrative, leadership, and technical tasks. E8s are expected to lead and train junior officers, as well as have extensive knowledge beyond their specialty.
Master Chief Petty Officer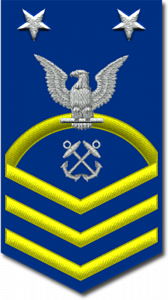 Master Chief Petty Officer is the highest enlisted rank. Master Chiefs are experts in their field specialty. Advance from this point forward is highly competitive. E9s can apply for the Command Master Chief Petty Officer Program to continue to refine their leadership skills and prepare them for larger roles.
Fleet/Command Master Chief Petty Officer (CMC/E-9)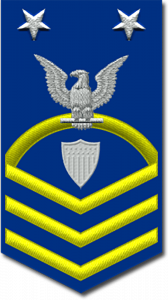 Command Master Chief Petty Officer is a senior listed rank at a command level. The E9 acts as a liaison between the enlisted and command or commissioned officers. E9s typically assist with issues surrounding discipline, training, technical challenges, and morale.
Master Chief Petty Officer of the Coast Guard (MCPOCG/E-9)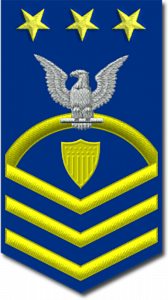 Master Chief Petty Officer of the Coast Guard is the highest senior rank and acting voice and representative of sailors. The MCPOCG travels and observes, gaining insight into the current state of each unit. Command depends on the MCPOCG to help correct or establish policies, entitlements, and training to ensure the well-being of enlisted personnel.
Warrant Officers Ranks
Chief Warrant Officer 2 (W-2)

Achieving the Chief Warrant Officer 2 requires board selection and eight years of service within the NCO ranks (E-6 through E-9.) Once appointed, the W2 fulfills one specialty out of twenty-one (i.e., Diving Specialist, Intelligence System Specialist, Personnel Administration, Weapons, etc.)
Chief Warrant Officer 3/4 (W-3/W-4)
Advancement in W3 and W4 happens over time. WOs are eligible to apply to the Chief Warrant Officer to Lieutenant Program.
Officers Ranks & Insignias
Ensign (O-1)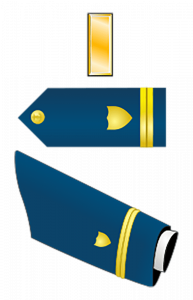 Ensigns are known as junior-rank commissioned officers. The full commitment to service is three years upon the receipt of the commission. Ensigns are assigned onboard at the division and will typically lead a group of petty officers and enlisted personnel.
Lieutenant Junior Grade (O-2)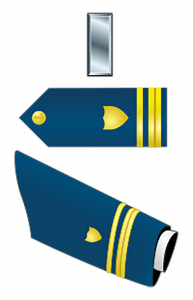 Lieutenant Junior Grade is the second junior rank above Ensign and is also called by the colloquial name, "JayGee." Their role is billeted division officers onboard a ship in their specialty but may also hold many job roles due to the multi-faceted mission of the O2. They can progress forward in their careers by completing formal education courses in their technical areas of expertise.
Lieutenant (O-3)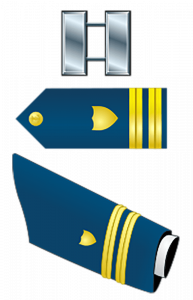 Being the highest junior officer rank, O3 focuses on further developing their rating skills at their assigned posting. Their time on board may be spent advising the junior enlisted ranks (E-1 through E-3) and petty officers, as well as maintaining, servicing, and organizing.
Lieutenant Commander (O-4)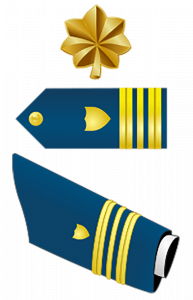 Being the fourth commissioned officer rank and holding a multi-mission of both maritime law and law enforcement, O4s are usually in command of smaller vessels, and an expert in their specialty. Advancement may be occurred by refining technical and operational skills, as well as completing educational courses.
Commander (O-5)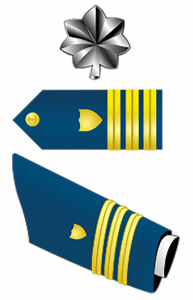 Commander is the fifth-highest officer rank and reports to the Sector Commander. O5s lead units on small vessels or cutters to carry out tactical missions including search and rescue, law enforcement, and homeland security and protection of the marine environment.
Captain (CAPT/O-6)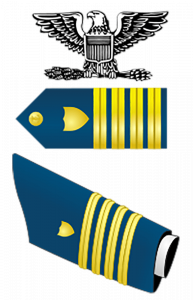 The captain is known as a senior officer rank and practices a high level of authority due to the Coast Guard's small service. CAPT will usually hold command of a large vessel, aircraft, or other senior posts. Being promoted from this position is difficult and requires an exceptional leadership history.
Rear Admiral Lower Half (O-7)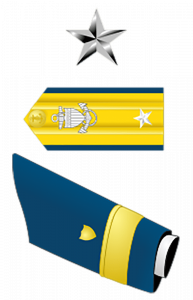 Rear Admiral Lower Half is a one-star flag officer and equivalent to a brigadier-general in other military branches. O7s typically serve as District Commander in charge of several sectors along the coastline or command of a small fleet. The Rear Admiral Lower Half term is approximately five years unless reappointed.
Rear Admiral Upper Half (O-8)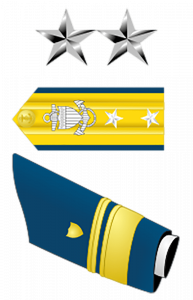 The Rear Admiral Upper Half is a two-star flag officer. Similar to the Rear Admiral Lower Half, the RADM commands a large fleet of the coastline. RADMs hold superior authority and experience and are ready to coordinate responses to emergencies in their sector.
Vice Admiral (O-9)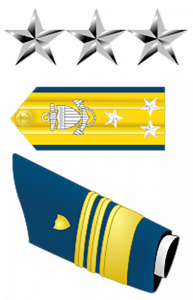 Vice Admiral is a three-star flag officer and designated to the office of the Vice-Commandment of the Coast Guard. O9 is second in command directly overseeing the mission of operational areas. The term ranges from three to four years long.
Admiral (O-10)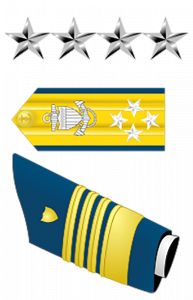 The highest rank in peacetime is Admiral, who wears a four-star flag as their insignia. Admirals command the entire operation, which includes over 41,000 active-duty personnel. The command of the Coast Guard reports to the President of the United States.
Coast Guard Ranks – FAQs
Are navy and coast guard ranks the same?
In times of peace, the Coast Guard is part of the Department of Homeland Security, and in times of war, it is part of the Navy. Except for color and the seaman recruit rank, which has one stripe, Coast Guard rank insignia are similar to Navy rank insignia.
What is the highest rank in the U.S. Coast Guard?
Admiral (or full admiral, or four-star admiral) is the highest rank in the United States Coast Guard. It is higher than the vice admiral (three-star admiral) but lower than Fleet Admiral (five-star admiral).
What is the lowest rank in the Coast Guard?
The lowest enlisted rank in the United States Coast Guard is seaman recruit (SR), which comes just below seaman apprentice. Within this rank, there are 2 distinct pay grades: 1 for those with less than 4 months of service and the other for those with more than 4 months of service, even if they have not advanced to seaman apprentice.
Is Coast Guard the easiest branch of the military?
When it relates to physical challenges and difficulties, the Air Force is said to be the "easiest" branch. Air Force personnel are among the least likely to see combat, second only to Coast Guard personnel. Air Force deployments aren't as common as those in the Army, Navy, or Marine Corps, and they are normally shorter in duration.