Do you want to join the Marine Corps? So What Do the Marines Do? One of the most well-known military branches in the United States is the Marine. Marines are regarded as "devil dogs" because of their toughness, loyalty, and discipline. Before you may join the Marines, you must meet a set of severe prerequisites. What are the requirements for joining the Marine Corps?
This article will tell you all you need to know about becoming a Marine!
What Do the Marines Do?
The United States Marine Corps (USMC), also called the U.S. Marines, is one of the most well-known fighting forces in the world. The Marines are a part of the Department of the Navy and operate at sea. The Marines' duty is unique among the services. Marines will serve on U.S. Navy ships, protect naval bases, guard U.S. embassies, and are responsible for providing an ever-ready quick strike force to protect U.S. interests anywhere around the world.
To complete the many missions of the Marine Corps, approximately 182,000 officers and enlisted Marines fly planes and helicopters; operate radar equipment; drive armored vehicles; gather intelligence; survey and map territory; maintain and repair radios, computers, jeeps, trucks, tanks, and aircraft; and perform hundreds of other challenging jobs.
Marines Corps Benefits
When joining the marines, a Marine takes pride and determination, there are many benefits that come with the job.
SALARIES AND PROMOTION
Competitive income: Generally, you are paid twice a month, at the beginning and the middle of the month, based on your pay grade and service requirements. Those who join the military with education or special skills are able to begin their jobs with a higher pay grade, some even may be eligible to serve in The Marines as an officer.
Promotion: You would be advanced based on job knowledge, your performance, time in pay grade, and service requirements.
HEALTH BENEFITS: Mentioning health care, while on active duty, you will receive complete medical and dental care with no cost. There's also medical care for your families
LIFE INSURANCE AND ALLOWANCES
Active duty members select up to $400,000 in term life insurance for a low price.
You'll also receive additional tax-free money for the basic allowance for housing (BAH); the basic allowance for subsistence (BAS); and a uniform allowance (for enlisted personnel only) to help maintain your uniform.
Tax advantage: Only your basic monthly pay is subject to federal or state income tax.
EDUCATION BENEFITS:
GI Bill: The GI Bill will help pay for college education or vocational training.
Tuition assistance: While on active duty, you are able to continue your education and get help in defraying the cost of college-accredited courses.
ADDITIONAL BENEFITS:
When joining the Marines, there are exchange and commissary privileges, moving allowances, temporary lodging expenses, travel, survivor benefits, Veterans Administration home loans, and more.
Vacation: You are allowed to have 2.5 days of paid vacation per month for a total of 30 days, it's up to 60 days each year.
Training: You choose your career path based on your aptitude, physical abilities, security clearance, motivation, and determination.
Requirements for Joining the Marines
The basic requirements for enrolling are as follows:
Age Requirement: Be between the ages of 17-28. Besides, 17-year-old candidates need parental consent.

To enlist, you must be a legal resident or a citizen of the U.S. Marines officers must be a U.S. citizen

Meet all the physical, mental, and moral requirements.

Educational Requirements: Hold a high school diploma or a GED certificate.

Take and pass the ASVAB test. The Marine Corps requires a minimum of 32 points on the AFQT. The Marine Corps limits GED enlistments to a maximum of 5 percent per year. It is at least 50 ASVAB Scores required for individuals holding a high school equivalency degree (GED, TASC, HiSET).

Pass a Military Entrance Processing Station medical exam.
What is the ASVAB Test?
Marines who want to enlist in the Marines need to complete a number of steps before they can be enrolled into the Marines. The first step is to take an ASVAB test, which tests your aptitude for military service and helps determine what jobs you may qualify for.
As mentioned, the ASVAB is a test that measures your aptitudes. It includes 9 short subtests, which cover Arithmetic Reasoning, Assembling Objects, Auto and Shop Information, Electronics Information, General Science, Mathematics Knowledge, Mechanical Comprehension, Paragraph Comprehension, Word knowledge, numerical operations, and coding speed.
Officer applicants who did not receive a minimum score on the SAT or the ACT must take the ASVAB and score a minimum of 115 on the Electronics Repair composite.
In order to increase the opportunities to make the Marines dream come true, you should get perfect preparation. We can help you with one of the best practice tests. Let's check out our full Marines ASVAB practice test 2022.
Read more >> Free ASVAB study guide
What's the difference between the Marines and the Army?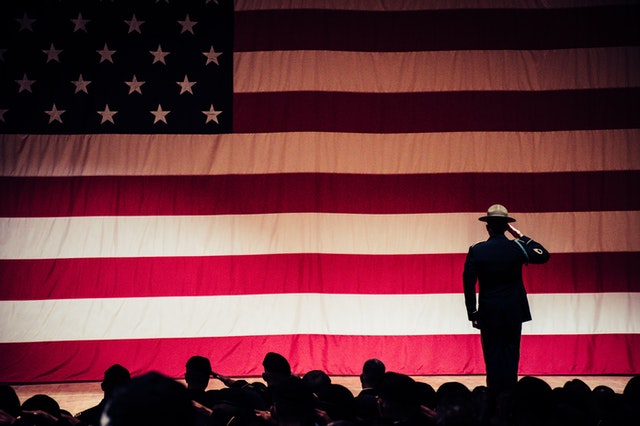 Although the initial goal of both The Marines and The Army is to protect the country and U.S citizens, there are unique elements of each branch making the differences.
The Army is a much larger force, about more than two times the size of the Marines, and is used in larger and longer conflicts. At times, the Army will relieve the Marines after a period of time.
The Army is typically land-based, so they will use trucks, tanks, and all-terrain vehicles for transportation. In contrast, the Marines frequently manage Navy-related campaigns, so they use ships, submarines, and amphibious vehicles in addition to Humvees or tanks.
Besides, the Marine's mission is more specified. The Marine Corps is considered the nation's 911 force. They have since evolved to become the United States' initial response team. In other words, whether you are in the infantry, the air wing, or a computer technician, you will be given the proper training, if needed, so that you can perform as an infantryman. It is fair to tell this mentality does not exist in all of the Army's support units.
Read more >> U.S Marine Corps Ranks and Insignia (2022 updated)
What Is Marine Boot Camp?
Recruit training is rigorous, demanding, and challenging experience. The general purpose of recruit training is to improve the military skills, knowledge, discipline, pride, and self-confidence necessary for recruits to be a Marine.
Marine boot camp is known as more challenging, both physically and mentally, than the basic training programs of the other military services. There are more than 70 training days in a period a little longer than 12 weeks. It has been said by former Marines that Marine Corps recruit training was the most challenging thing they ever had to do in their entire lives.
In the first several days at the recruit depot, the recruits are assigned to a platoon, receive a basic issue of uniforms and equipment, then are given an additional physical and take further assignment classification tests. A team of three Marine drill instructors would be the leaders of each platoon. A regular training day for a recruit begins at 5 a.m., includes drill, physical training, and several classes in weapons and conduct, and ends at 9 p.m. with taps.
How Long Does Boot Camp last?
Boot camp lasts 13 weeks, followed by 3 weeks of the School of the Infantry or Marine Combat Training.
Where Is Boot Camp located?
Boot camp is located at Parris Island Recruit Depot, South Carolina on the east coast and San Diego Recruit Depot, California for those on the west coast. Parris Island is for women to participate in recruit training.
What Should I Prepare for the Marine Boot Camp?
There's a lot of things to prepare before such a challenging journey. The more you prepare in advance, the better you will be.
It's important to try to get into physical shape. Focus on running three miles and long marches (up to 10 miles). Sit-ups and pull-ups are also essential. If you cannot do basic exercises, it would take you a significant amount of time to adapt to the physical conditioning platoon.
Besides, pay particular attention to the list of items you are not allowed to bring to the boot camp.
We cannot say how important enough it is for you to prepare yourself for running and physical fitness training. It is recommended that you may enroll in recruit training with the ability to run three miles in less than 24 minutes.
What Training Will I Receive?
Depending on the program, you will participate in boot camp and training for your military occupational specialty (MOS). Weekend or weekday drills are training. Active duty for training (ADT) is 12 days of active duty is required annually.
What Is Officer Candidate School (OCS)?
OCS stands for Officer Candidate School, which is for college graduates or those in the process of receiving their degree and want to become Marine commissioned officers.
There are two programs for applicants – the Platoon Leaders Course (PLC) and Officer Candidates Class (OCC). Both training programs are located at Quantico, Virginia.
PLC – For freshmen, sophomores, or juniors in college. Applicants will finish either two six-week courses or the 10-week course before receiving their degree.
OCC – Seniors or those who already have received their degree will participate in a 10-week course.
Both programs are organized in the summer and do not interfere with your academic studies.
The purpose of either 10 or 12 weeks of officer training is to measure your leadership potential; so take the chance and prove yourself. Once you graduate, you can determine whether to accept an appointment as a Marine Corps officer.
How Do I register for OCS?
We highly recommend you contact an officer selection Officer (OSO). The application process consists of receiving a minimum combined score of 1000 on the SAT, a 45 on the ACT, or a 115 on the Electronics Repair composite of the ASVAB. You also must pass your physical exam at MEPS and write an essay as well as statements of your references. 
How do I join ROTC?
You can receive a commission in the Marine Corps by joining Naval ROTC. The Naval Reserve Officers' Training Corps (NROTC) program offers tuition and other financial benefits at more than 60 of the country's leading colleges and universities. Two- and four-year subsidized scholarships are offered. Applicants receive a monthly cash allowance. Two- and four-year non subsidized NROTC programs are also offered. These are considered college programs and provide for monthly cash allowances between the junior and senior years.
Read more >> Marine ASVAB Practice Test
Marines Corps FAQs
Is Infantry the Only Job in the Marine Corps?
While it's said about the Marines that "every Marine is a rifleman," infantry units make up no more than 15% of the service's total force. You can have a chance to work in one of 35 career fields that offer more than 300 different jobs.
There are some special fields available to you as examples: Aircraft defense, Aircraft maintenance, Broadcasting, Combat engineer, Communications, Computer operator/technician, Electronics, Supply,…
Can a Marine be a Navy SEAL?
Unfortunately, the answer is No. An active-duty Marine is unable to become a Navy SEAL. In order to undergo Navy SEAL training, you must be a member of the Navy first.
Does the Marine Corps accept Prior Service?
The answer is Yes. The Marine Corps does accept prior-service people but not in large numbers.
How long does it take to enlist in the Marines?
It's a process to get accepted from 1-2 weeks depending on the health and physical condition as well as background of criminal history and restraints. Training schools can be 4 – 8 weeks. 
How high of a GPA do you need to join the Marines?
2.5
The minimum required high school GPA is 2.5. Besides, you must score no lower than a 920 on your SAT and 19 or more on your ACT.
What is the hardest part of a Marine boot camp?
Phase Three of Marine Corps Boot Camp
Weeks 8-10 will be the hardest period of training as recruits. You will have to give everything they have and even more to keep pushing forward. Just try your best! At the end of this phase, recruits will go through the final event of training – The Crucible.
What happens after the marine corps recruit training?
After finishing the recruit training, Marines attend the School of Infantry (SOI). Some with their MOS (Military Occupational Specialty) are trained at Infantry Training Battalion (ITB) during the 52-day course, while others are trained at Marine Combat Training Battalion (MCT) through 29 days. 
After completing the combat training, Marines go to school to gain knowledge about how to do their specific jobs. And then they would receive orders for duties.
What if I Want to Go to a Service Academy?
Some Naval Academy graduates go into the Marine Corps. While at Annapolis, midshipmen have the opportunity to see firsthand the various fields open to them.
How Do I Apply to the Naval Academy?
After participating in a summer seminar or stem program, in order to apply, you should have a competitive SAT (Scholastic Aptitude Test)/ACT (American College Testing) score and cannot have reached your 22nd birthday. 
You also should attend athletics and community service, and demonstrate leadership qualities.
Are There Promotions to Officer Rank?
The answer is Yes. Marine officer ranks consist of commissioned officers and general officers. The promotion of officers is confirmed by the U.S. Senate.
What Reserve Opportunities Are in the Marine Corps?
Yes, of course. The Marine Corps Reserve is a part-time force of professionally trained individuals who serve with the Marine Corps for one weekend per month and two weeks every year.
You'll have to complete a 12-week boot camp as well, but you'll have the option of training for one of more than 300 different jobs.
What Are the Requirements to Join the Reserve?
The requirements for joining the Reserve are comparable to those for active duty, as previously stated.
You've memorized a lot of knowledge; don't forget to take the Marines ASVAB practice test to ensure you're fully prepared for the coming journey!
Read more >> Joining the Military: What an Enlisted Member needs to know?