The ASVAB is one of the most important exams you can take in high school. It is crucial in determining which profession or vocation is best for you, as well as providing insight into your mental abilities. "Is The ASVAB Hard?" is one of the most frequently asked questions about this exam. This article will give you a thorough explanation of the test and how to prepare for it.
Do you want to join the military? Throughout your high school career, did you intend to join the military after graduation? If this is the case, you're probably curious about the ASVAB. Everyone who joins the military is required to take this test, but do you know what it is and how to ensure that you pass it?
What is the ASVAB Test?
The ASVAB stands for the Armed Services Vocational Aptitude Battery. This test shows what your mental abilities are and how well you can handle a certain career or job position. You will be given ten specific sections to complete, including math problems as well as questions about reading comprehension.
ASVAB Test is designed for those who are interested in joining the military and want to get a good idea of what it will be like. The test covers everything from mathematics to mechanical to civil engineering and even more!
Is the ASVAB hard?
Is The ASVAB Hard? And what makes this difficult? The ASVAB is honestly not difficult, but it might be challenging for people who are not good at math or reading comprehension. It is essential to prepare by studying the necessary skills beforehand in order to make a good performance on this test.
According to recent research, the mathematics knowledge test is considered to be the hardest ASVAB subtest. To get a well understanding as well as tips and tricks to get the highest ASVAB Scores in this section, read more information on our free ASVAB Math study guide!
ASVAB Requirements for Eligibility
You must be 17 years old or more to take the ASVAB and it is needed for all military branches.
Passing the ASVAB is vital to getting into whatever branch of the US military you want to join (Army, Navy, Air Force, Marines). But, a passing score varies on the branch that you are in. Here are the military branches and what you will need to score to be eligible to join:
Air Force: Minimum of 31 for high school seniors or graduates, 50 for GED holders
Army: Minimum of 31 for high school seniors or graduates, but 50 for GED holders
Marine Corps: Minimum of 32 for those with a high school diploma, and 50 for those with a GED
Navy: Minimum of 35 for high school graduates, and 50 for those with a GED
Note that these are just the minimum requirements for eligibility for these branches. 
Passing the ASVAB is just the beginning. Each MOS in every branch of the military has specific ASVAB score requirements. There are multiple subjects covered, and how you score on each is added up to decide what specific MOS you are eligible for.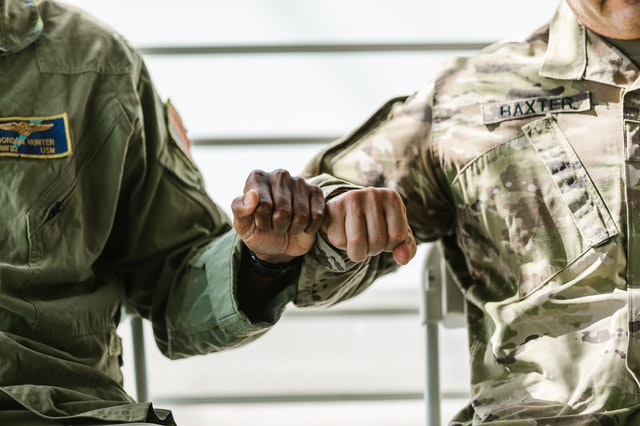 How to prepare for the ASVAB Test?
While passing the ASVAB has a lot of things to do with testing knowledge that you already have right now, you can do a few things to get the best score possible. While there are many ASVAB preparation tactics, it's an optimal choice to use an official ASVAB study program that has been tested and proven effective. Some of the many elements of a quality ASVAB preparation regime include:
Using our detailed ASVAB Study guide for each ASVAB Sections
Taking ASVAB practice tests
Using an ASVAB study platform, such as our free ASVAB practice test2022, can help you focus not only on the areas that need to be addressed but also on time-tested and proven effective study strategies to help you excel on the test. Taking practice tests is a fantastic way to truly dip your toes in the water and remove your nerves so that you don't go into the test blindly on the day of the test. You'll have an idea of what the test will be like and will be able to mentally prepare for it.