The United States Military, also known as the United States Armed Forces, is the totality of the United States military forces. Because of the attractive salary levels and social benefits, becoming a military officer is always a topic of interest for many people. So how to become a Military officer? In this article, we will walk you through the steps to becoming an officer in the military.
Let's get started with our free ASVAB practice test to pass the exam with your highest score and join the Military.
What is the military personnel level?
As of 2009, there are nearly 1 and a half million people serving in the United States Army and about 800,000 more are in the 7 reserves. However, all are volunteers for military service. The forced draft policy may be implemented by order of the President of the United States and subject to the approval of the United States Congress. The US military has troops stationed all over the world and ranks 2nd in the world after China's People's Liberation Army in terms of numbers. Like most troops, members of the United States Army hold a military rank such as officer, warrant lieutenant, non-commissioned officer, or soldier, and can be promoted.
Enlisted: to specify the group of soldiers.

Non-commissioned officers (literally, non-commissioned officers): refer to a group of non-commissioned officers.

Warrant officers: In this group will be divided into smaller ranks such as sergeant 1, and sergeant 2,… with different salaries.

Commissioned officers (literally authorized officers): refers to a group of officers from the second lieutenant to the general.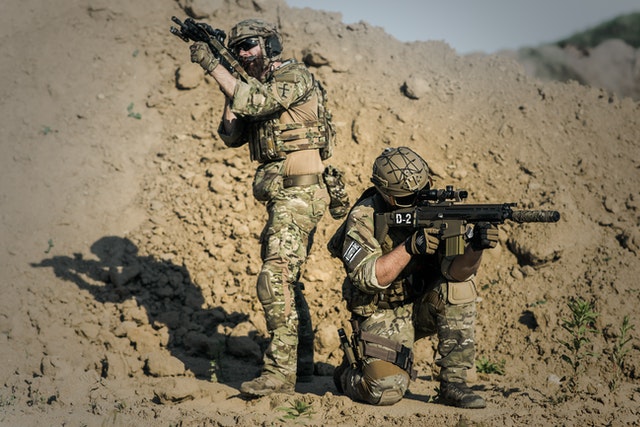 Enlisted
Prospective service members are typically recruited from high schools and universities, with the recruiting age targeted at 17 to 39. Applicants may enroll at age 17 but with approval from the Army. either parent is a parent or guardian and will subsequently participate in the deferred enlistment program.
Initially, recruits without a high level of education or college level will have an E-1 salary level, and will usually be promoted to E-2 immediately upon completion of basic training. Different services have different incentive programs for recruits, such as a higher initial rank if you attend college and referring friends to enlist. Participating in a deferred enlistment program is one way enlistees can gain ranks before they begin basic training.
Non-commissioned officers
With very few exceptions, to become a non-commissioned officer in the United States Army soldiers must work their way through the ranks from the soldier. However, unlike the promotion in the soldier group, the promotion in the non-commissioned officer group is often due to the ability to compete with teammates. Lower-ranking non-commissioned officers act as first-level managers of the troop or squad leader, training soldiers on their duties and guiding them through the ranks.
Senior non-commissioned officers act as leaders of small units and work with the general staff. Some senior non-commissioned officers run programs with the rank of headquarters, and a select few hold responsibilities at the highest levels of the military's organizational structure. Each of the five services has a senior non-commissioned officer serving as an advisor at the ministry level.
This person is a member of the highest rank of non-commissioned officer in his or her service and serves as the chief advisor to the secretary, chief of staff of that service, and the US Congress on matters related to the group of soldiers and non-commissioned officers of the service. These senior non-commissioned officers carry the same responsibilities and personalities as generals and flag officers.
Warrant officers
The rank of warrant lieutenant in the United States Army shares the same customs and manners as the rank of officer. They can attend officers' clubs, take on leadership roles, and be greeted by servicemen of the rank of warrant lieutenants and by all non-commissioned officers. Most US Army pilots have served for some time in the rank of non-commissioned officer.
In addition, all services except the United States Air Force have the rank of warrant officer in service. Above the rank of the first lieutenant (warrant officer one) these servicemen may be considered officers of the rank, but typically serve in a professional and technical role within their unit. More recently, however, these service members may also serve in more traditional leadership roles as regular officers.
Commissioned Officer
There are five common ways to get commissioned as an officer in one of the five services (although there are other paths as well).
Officer Candidate Schools (OCS): are academies for active-duty military personnel, or, in the case of the National Guard, state-funded academies.

Join military academies (U.S. Military Academy at West Point, New York;..)

Directly commissioned – civilians with the skills the military needs to operate and support soldiers can be directly commissioned as officers. These officers hold leadership positions in the following industries: law, medicine, dentistry, pharmacy, military medicine, intelligence, transport supply, engineering, public affairs, chaplain, captain oceanography, and other disciplines.

Front-line mandate – under certain conditions, non-commissioned officers more skilled than their counterparts can become officers on a direct mandate from a commander. This type of delegation is rare and reserved only for the most talented individuals and is usually only available in wartime.

Military personnel receives authorization from the President of the United States to become officers (with the consent of the United States Senate). To accept this mandate, all officers must take an oath of office.
Read more >> The Difference Between Non-Commissioned and Non-Commissioned
How to become a military officer?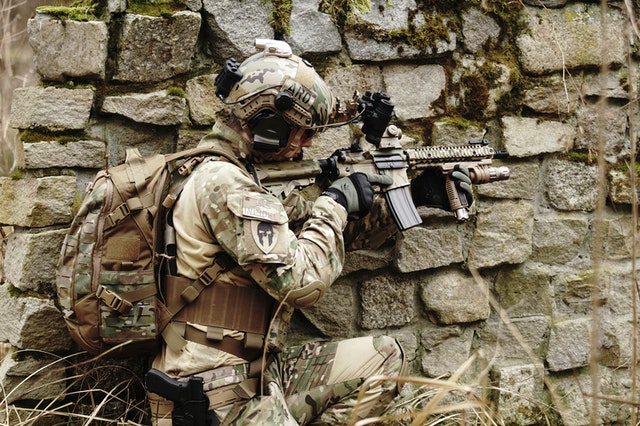 Commissioned officers by and large enter the Military with a four-year university degree or more prominent. In certain cases, people who are enlisted as officers can develop and move to officers during the military course of their military career as well. Officers are for the most part utilized in administration parts or exceedingly specialized areas that require proficient degrees (e.g., specialists, attorneys, and chaplains).
An officer's instruction frequently decides which career he or she will have within the Military. In most cases, the Military officer candidate will meet with a military advisor/counselor amid college to choose a potential work claim to develop their career as a Military officer. Below is the common path that a person should consider for joining the Military as an officer.
Colleges and Academies
These profoundly competitive schools are essentially free of charge for those acknowledged. The government pays for each student's educational cost, room/board, uniform, and books. Understudies are, in some cases, given a living stipend as well to assist cover expenses, an individual computer, and other lesson supplies. In return, the understudy commits to serving as an officer for a set period after graduation, as a rule, 5 years.
Reserve Officers' Training Corps
Reserve Officers' Training Corps programs give officers preparing for understudies amid college in trade for grant cash. In return, the understudies commit to serving for a set period of time after graduation. Reserve Officers' Training Corps programs are advertised at numerous schools and permit the understudy to have a conventional college involvement while planning for his or her future as a United States Military officer.
Officer Candidate School
After the process of successfully completing a four-year degree from your college or academy, graduates may select OCS. Usually also known as OTS (which stands for the United States Officer Preparing School) within the Air Force. Officer Preparing School or Officer Candidate School changes in length between students' Services but for the most part, keeps going during the period from 9 weeks to about 17 weeks.
The Marine Corps Unit Pioneers Course (which is often called PLC for short) is another elective. It offers college understudies the opportunity to end up commissioned officers within the US Marine Corps. In each program, understudies can anticipate courses that center on military subjects, physical preparation, and administration aptitudes.
Read more >> How To Become An Officer In The Navy In 2022?
Direct Commission
Coordinate Commission Officers (DCOs) are civilians who have uncommon aptitudes required for military operations. These are more often than not people who have earned proficient degrees in areas such as medication, law, devout considers, building, or insights. Several bunches such as the Chaplain Corps, JAG Corps, and Therapeutic Corps as often as possible utilize Direct Commission Officers.
Direct Commission is required to go to Direct Commission Officer Indoctrination Course (which is often called DCOIC for short), Officer Development School (which is often called ODS short), or the Officer Indoctrination School (which is often called OIS for short), depending on which type of Service they are going to attend. College graduates who have been uncovered to military preparation through any collegiate-level program may apply for the Coast Guard's Coordinate Commission Chosen School (or the DCSS) program. Normal age limits and necessities may be deferred for a few of these positions. Because the Services' needs alter quickly, it's best to talk with a selection representative for up-to-date data to almost coordinate commission openings.
Non-Scholarship Programs
There are two non-scholarship ways for a person to become a Military officer that is worth considering. The Armed Forces offers the Green-to-Gold Non-Scholarship Program. This officer-path choice is for Officers who have completed two a long time of college and who total certain college degree prerequisites in two a long time. The benefits of this program incorporate a stipend, pay for going to the CLC (which stands for the US Cadet Authority Course ), and other motivating forces.
Another choice is advertised by the United States Air Force Corps. Being considered the General Military Course, it is the primary area of Air Drive Reserve Officers' Training Corps that's advertised as a two-year course for college first-year recruits and sophomores who meet certain minimum requirements. It's a fabulous opportunity for understudies to undertake the Reserve Officers' Training Corps program without any commitment to connect ROTC or serve.
What are the military principles?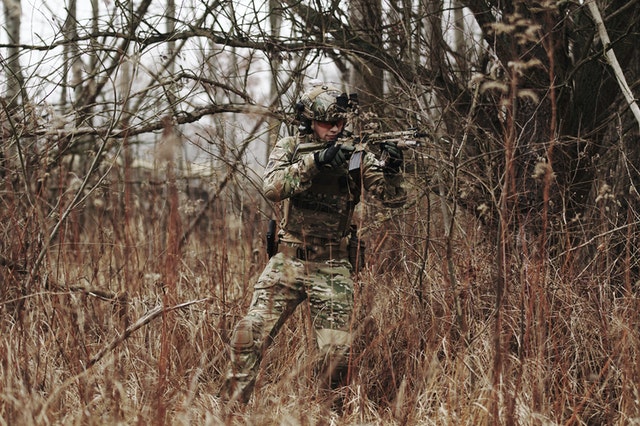 Being a Military officer isn't simple. You're inquired to do things not inquired of other individuals. You've got to be forceful and solid in the fight, however, carry on legitimately and appear self-control all the time. Below are the 8 principles of a Military officer.
Courage
Doing as well as saying the correct thing isn't a simple thing. All officers require mettle, both physical and ethical. Appearing physical mettle and risking injury or passing to total the mission is almost controlling your fear, instead of a need of fear. Preparing and teaching will assist you to do your obligation in any case of the perils and distresses. Ethical mettle is doing the correct thing, not looking the other way once you know or see something is off-base, indeed in the event that it isn't a well-known thing to do or say.
Read more >> How To Become A Marine Officer?
Discipline
Discipline is the expression of a Military officer after the process of striving, following the principles and operating framework of the organization. The discipline is often shown through the ability to control his own behavior and perception within the framework, not to be influenced by the outside.
In the military, maintaining discipline is one of the important issues to ensure discipline, a shield to preserve and protect the security of the country. Therefore, the violations during the time in the military ranks are strictly handled and there are specific sanctions for these special subjects.
Respect others
Troopers come in all types and all merit to be treated decently. There's no put for any shape of badgering or separation in a Military that claims to "Be the Best". Separation harms groups; it prohibits individuals and does not grant them a chance to contribute. The Military recognizes the significance of humor, but humor must be comprehensive. Humor that insuperable mocks, or threatens individuals are damaging and harms the group.
Regarding others is a portion of the belief that needs to exist between you and your partners; you must judge individuals on their capacities and not on their race, religion, or gender. Respect for other people, counting civilians, prisoners, and captured adversary powers implies treating individuals nicely.
Integrity
Integrity is the virtue of honesty and strong adherence to ethical standards; In other words, it is honesty associated with morality. Often, it is an individual choice to keep the person firmly rooted in ethical principles and standards. A Military officer needs to always cultivate integrity, thereby gaining the trust and companionship of his teammates.
Loyalty
The term 'loyal' is an adjective utilized to define a loyal individual based on his actions or behavior. That is why, a loyalist is a person whose characteristics are dedicated, compliant, and even when the circumstances are adverse, as well as defending what he believes in, for example, a project. Loyalty is synonymous with nobility, integrity, honesty, and honesty, among other moral and ethical values ​​that allow the development of strong social relationships and/or friendships, where a very solid relationship of trust and respect is automatically created in individuals.
Compliance
Comply with the law, all the time, wherever you're serving. All warriors are subject to the law wherever they are serving. On operations, this integrated worldwide law, the laws of armed conflict, and, in a few cases, neighborhood respectful law. The Military must be tough and forceful and in doing your work, you may face individuals who break the law. You must continuously keep your self-control, be that as it may, irate or incited you may well be since no Military officer is ever over the law.
Professionalism
As a United States Military officer, you're prepared for the most elevated guidelines. It is vital that you simply keep up those measures all the time, on and off obligation. The dependable utilization of liquor is acknowledged, but orgy drinking is amateurish: it is unsafe and it harms your wellbeing.
The utilization of any type of drug is against the law and additionally hurts you. The impact of drugs can stay in your body for a long time. It may influence your execution of operations, making you questionable and deceitful – you have gotten to be the liability. Warriors who are caught using drugs can expect to be released. You must not talk to the press, or offer stories or pictures without the authorization of your commanding officer. See after your cash carefully, and maintain a strategic distance from uncontrolled obligations and overwhelming betting as this appears a need for self-discipline, and others may lose their belief in you.
Read more >> How To Become An Army Officer In 2022?
Appropriate behavior
Belief supports all our behavior. The United States Military officer requires a higher standard of social behavior from you because our work depends on putting others' needs ahead of our own, being genuine, and supporting colleagues. Social misbehavior, particularly off-base connections, can erode belief. Unwanted sexual attention, taking sexual advantage of anyone, or an issue with a partner's accomplice may harm the keenness and trustworthiness of those involved, as well as the group.
In general, the path to becoming an officer in the United States Military is similar. Many people wonder how to become an officer in the Army or the Navy, but the general formula is that you must graduate from professional schools, attend professional training courses, and, of course, meet the physical fitness/profile/education requirements.
Do officers take ASVAB?
If you enter the Army via a direct commission to serve as an Officer, ROTC, or the United States Military Academy at West Point, where you graduate with a college diploma and as a commissioned Army Officer, you are not required to take the ASVAB.
We hope that this article on how to become a Military officer has provided you with useful information about the personnel ranks in the United States Military as well as the path to serving as a professional officer. Wishing you the best of luck!