Many people aspire to be United States Marine officers because of the stable salary and numerous amazing benefits provided by the US government. To become a professional Marine officer, however, strict requirements must be met, ranging from age, family background, and profile to passing rigorous training courses. So, how to become a Marine officer? Let us start with the most basic information about the United States Marine Corps.
General information about the United States Marine Corps
The United States Marine Corps (which is also called USMC for short) is an arm of the United States Armed Forces that is the core force that uses the mobility of the Navy to rapidly dispatch heavily armed task groups across the globe. land, sea, and air as authorized by Congress and the President of the United States. The Marine Corps is acknowledged as one of the four services of the United States and one of seven with its own uniform. The current chairman of the United States Joint Chiefs of Staff is a Marine general.
The United States Marine Corps has been a component of the Department of the Navy since June 30, 1834, working closely with the Navy in training, transportation, and logistics. The United States Marine Corps administers bases on land and amphibious assault ships around the world, and several of the Marine Corps tactical aviation squadrons, primarily fighter squadrons, are assigned to the Navy's nuclear-powered aircraft carriers.
Initially, two battalions of Marines formed on November 10, 1775, in Philadelphia, capable of fighting both at sea and ashore, evolved and expanded into air warfare and were dubbed "The Force" Third Air Force" and "Second Army Force". The United States Marine Corps was famous for participating in most of America's wars and armed conflicts, and became famous in the 20th century for the theory and practice of amphibious warfare during World War II, becoming "the world's leading "theorist" and "practitioner" of amphibious warfare.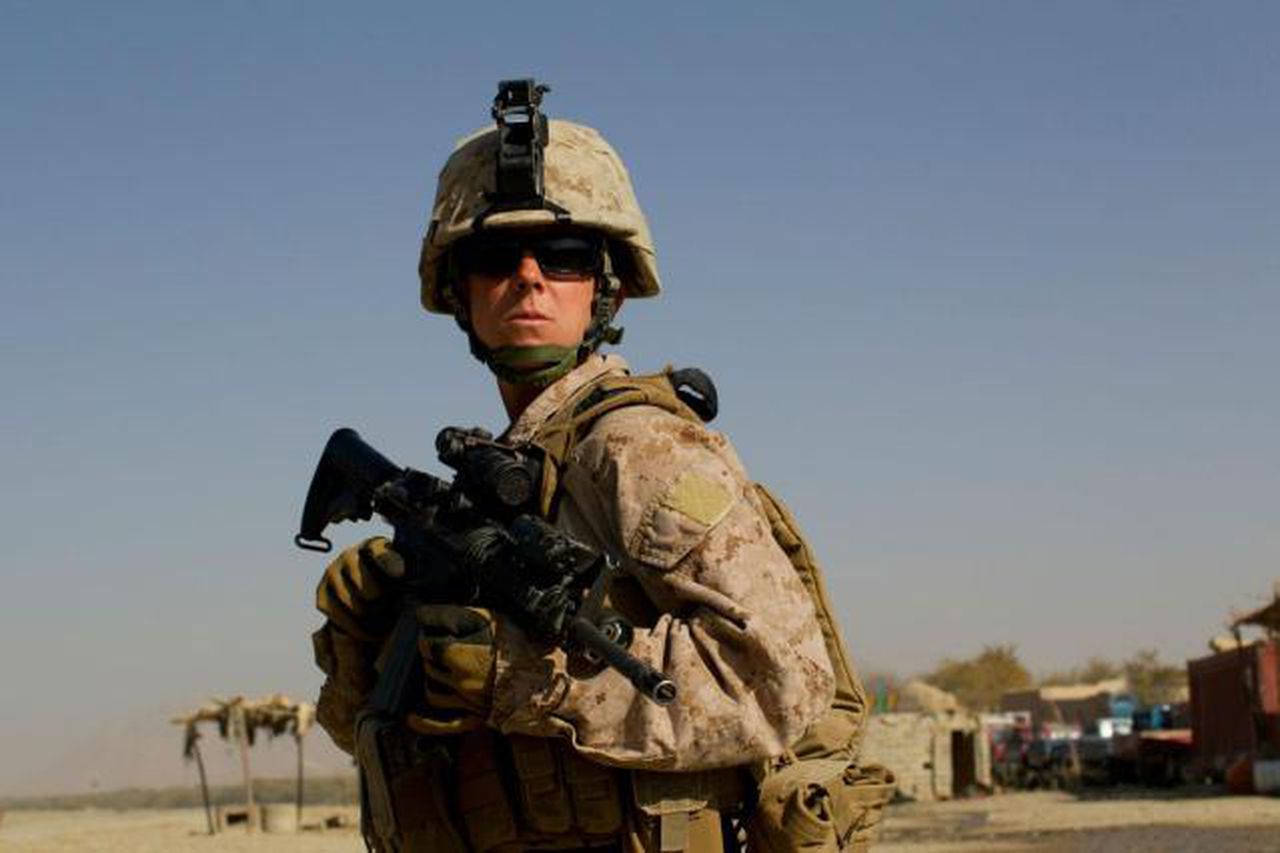 The ability to react as quickly as possible and in a short time to crises gives the United States Marine Corps a tremendous role in the development and implementation of US foreign policy. As of 2016, the United States Marine Corps had approximately 182,000 active-duty personnel and approximately 38,900 reservists; this is the smallest branch of the US Armed Forces, annually more than 2,000 new officers are added, and 38,000 new recruits are recruited.
All Marine Corps recruits must successfully pass a fitness test to begin training at San Diego or Parris Island; those who do not qualify are "supplemented" to meet the minimum standards. Marine training is the longest in the US armed forces, at 12 weeks, compared with 10 weeks for the Army, 9 weeks for the Navy, 8 and a half weeks for the Air Force, and 8 weeks for the Coast Guard. After recruit training, new Marines attend Camp Geiger or Camp Pendleton for four months, learning common infantry skills, before continuing on to specialized schools for different lengths of time together.
The United States Marine Corps Mission
The purpose of the Army is defined as preserving peace and security as well as being in charge of providing for the defense of the United States, supporting national policies, carrying out national goals, and overcoming any nation responsible for acts of aggression that undermine the peace and security of the United States.
The Marine Corps mission is to capture or defend advanced naval bases and other land operations in support of naval operations and to develop tactics, techniques, and equipment for the force. landings and other duties as the President may direct.
The United States Marine Corps Uniform
The Marines have the most recognizable and stable uniforms in the United States Army. The blue ceremonial uniform has a history dating back to the early 19th century and the service uniform to the early 20th century. The Marine Corps uniform is also remarkably simple. The Marines do not wear their unit insignia or the US flag on any of their uniforms. They also do not wear name tags on their ceremonial uniforms and military service uniforms.
Only a few skilled personnel carry special badges. Military ranks are also not worn on hats. While members of other services are often identified with which service they belong to, e.g. commandos, submarine personnel, flight personnel, etc.), the Marine Corps uniform does not reflect that distinction.
The Marines have three main types of uniforms: ceremonial, operational, and operational. The Marine Corps ceremonial uniform is the most elaborate, worn for formal occasions or occasions. There are three types of ceremonial uniforms, the most common being navy blue. It is often seen in rookie recruitment promotions. There is also a blue and white ceremonial uniform for the summer and a nocturnal uniform for nocturnal occasions. During working days, personnel in charge of recruiting new recruits also wear military uniforms consisting of a khaki shirt instead of outerwear.
Military service soldiers were previously considered as working clothes of the garrison; However, combat uniforms have largely replaced this role. Military service includes khaki and olive green. It is roughly equivalent to a civilian suit in form and function.
A combat uniform is a camouflage military uniform intended to be worn on the battlefield or for dirty work in a military place, although it has now been standardized for routine duties. It has a camouflage pattern consisting of many distinct marine-style spots that separate its wearer's form and make the Marine uniform different from the uniforms of other services. At the shelter, the jungle uniform was worn with the sleeves down in the winter and the desert uniform was worn with the sleeves rolled up in the summer.
Read more >> The Difference Between Non-Commissioned and Non-Commissioned
What jobs are there for Marine Corps officers?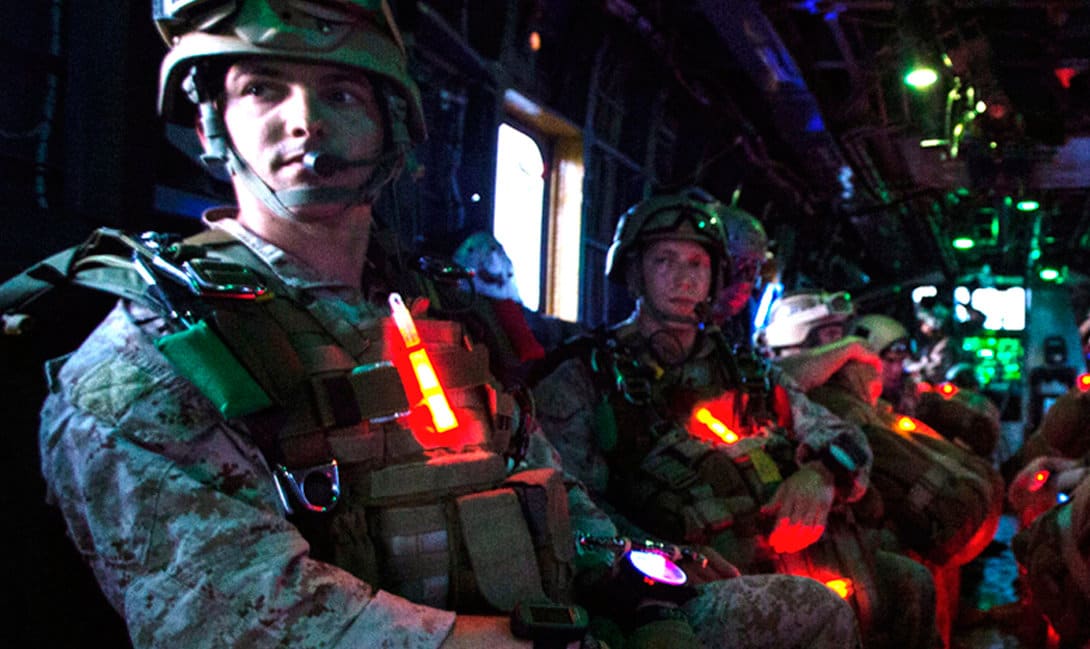 Below are the most popular Marine Corps officer jobs:
Administration
Employment in this field includes authoritative, administrative, and specialized assignments. You'd be prepared in clerical and authoritative strategies, office administration, individual computer abilities, taking care of military distributions and correspondence, record keeping, planning orders, mandating, and utilizing recording frameworks.
Infantry
Infantry is the combat arms department of the Marine Corps. You'd be prepared to find, near in, and annihilate the foe by fire and move. You'd moreover repulse an enemy's attack by fire and near combat.
Logistics
You'd be mindful of giving the common and coordinated back of the Marine Air-Ground Task Force (which is also known as the MAGTF for short). You will moreover back the MAGTF amid attacks and operations inland.
Communications
You'd plan, introduce, interface, and work with communication systems and information frameworks. You'd moreover do preventative upkeep on computer frameworks, radio, phones, cryptography computer programs, and equipment frameworks.
Field Artillery
This field has distinctive regions of obligation. Your obligations will incorporate field big guns operations (moving, working, and keeping up gear that obtains target); terminating battery (including moving, stacking, terminating, and keeping up cannons), and perception and contact (checking and analyzing combat plans and communicating exhortation).
Utilities
Your work would be to arrange and give utilities to back posts and stations. You'd build up, work, keep up, and repair control-era units, shower and clothing offices, and HVAC frameworks.
Assault Amphibious Vehicle
During the process of working as an important portion of an AAV (which is the short word for Assault Amphibious Vehicle) team, you'd offer assistance with working and keeping up the vehicle weapons stations.
Explosive Ordnance Disposal
There are totally 3 main positions in this MOS: fundamental ammo and hazardous arms transfer, ammo specialist, and EOD (which stands for explosive ordnance disposal) professional.
Signals Intelligence
Your work would center on key and strategic insights. You'd be entrusted with observing radio and other broadcasts to set up adversary positions. Occupations incorporate signals insights examiners, signals intelligence or electronic fighting, cryptanalysts, and radio observation.
Supply Operations
Your work would be to perform ground supply organization and operations. Assignments would incorporate requesting and handling hardware, keeping up supply distribution centers, and dispersing supplies.
Distribution Management
You'd facilitate travel and shipments by helping with the transport of military and individual property, making a difference to move marines and their families between bases. You'd oversee the development of military gear and supplies.
Food Service
Your work would be to get ready nourishment for other marines in the military and the field. You'd too arrange dinners to guarantee that satisfactory nourishment is accessible to Marines working within the field amid arrangements.
Motor Transport
Your work would be to guarantee that all troop and hardware transport vehicles are assessed, kept up, and in mission-ready condition. You will moreover be an engine vehicle administrator and drive an assortment of United States Marine Corps vehicles.
Electronics Maintenance
Your work would include the upkeep, repair, and operation of diverse sorts of electronic hardware that bolster discussion of defense, observation, weapons frameworks, radio communication, and activity control.
Meteorology 
You may be dependable for collecting, surveying, and conveying data appropriate to inviting and adversary constrain qualities and shortcomings, counting information on climate and climate.
Avionics
You'll give back to flying weapons frameworks. Employment in flying incorporates airship flying specialists, communications or navigation frameworks professionals, and cryptographic frameworks specialists.
Nuclear Defense
You'd be in charge of conducting defense against chemical, natural, radiological, and nuclear assaults. You'd issue and prepare Marines on the utilization of gas covers and related defensive gear.
Read more >> How To Become An Officer In The Navy In 2022?
How to become a Marine officer?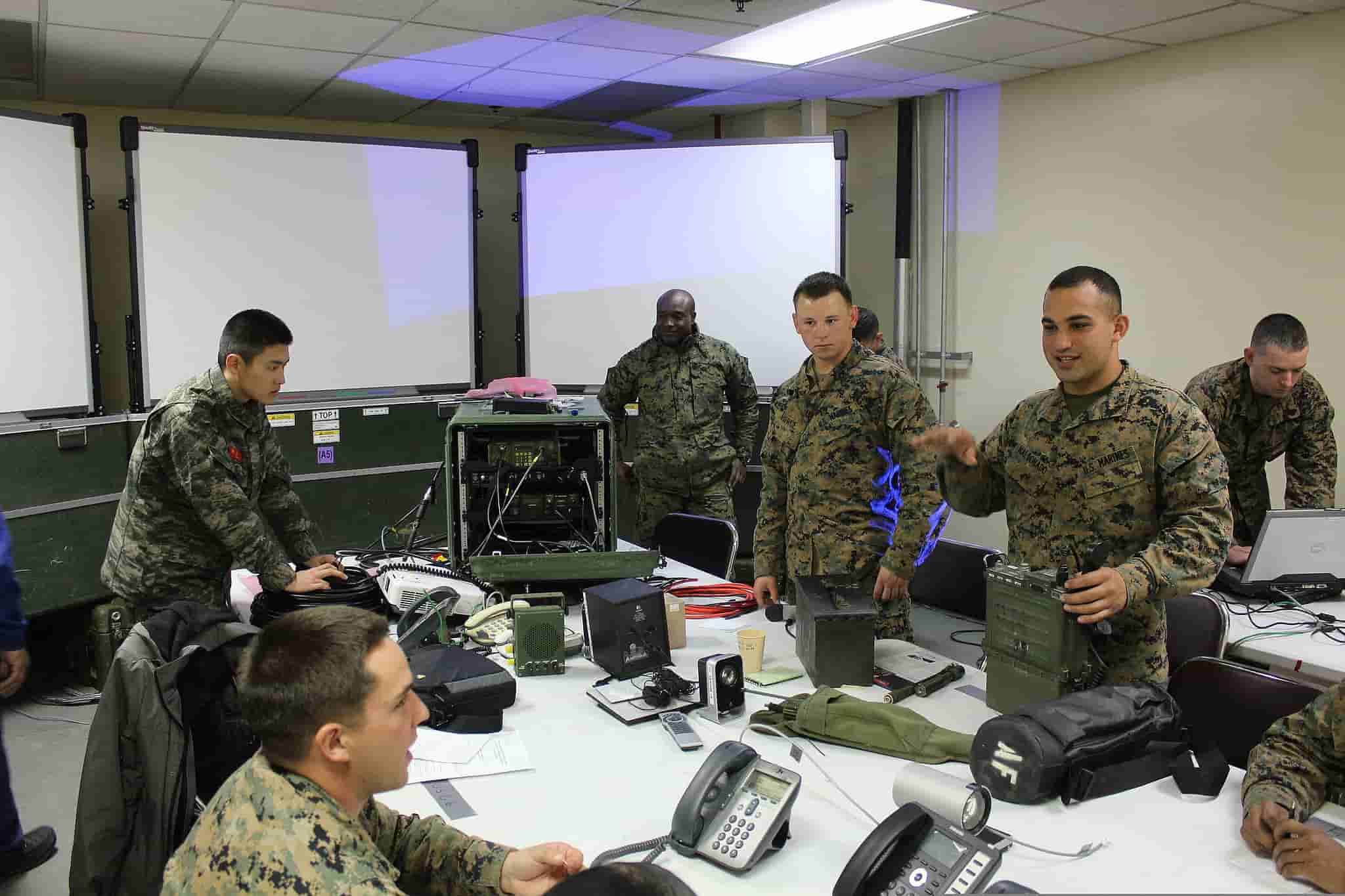 General Marine Officer Requirements
How to become a Marine Corps officer? Candidates who want to become a portion of the United States Marine Corps (or the USMC for short) must successfully pass the following Marine Corps officer requirements:
Must be a U.S. citizen or resident alien

Must be between 17 and 28 (new recruits age 17 need parental consent)

No more than two dependents

Pass the Armed Services Vocational Aptitude Test (ASVAB) (minimum AFQT score: 32). Let's get started with our free ASVAB practice test to pass the exam on your first attempt.

Must have graduated from high school, earned a GED, or met other high school equivalent requirements

Background checks (security and financial checks) must be passed

You must be in good physical condition. You will get physical training in basic training but you will have to pass a physical before enlisting

Must be in good health. Certain life-threatening or contagious diseases or conditions may disqualify you from service

You have to successfully pass a criminal background check by the Marine Corps and have no felony convictions before

Women are eligible for all occupations except combat weapons majors: infantry, tank, and amphibious tractor crew
Eligibility and screening
The minimum age for anyone to enlist is 17 years old with parental consent or 18 years old without consent. The maximum age for enlistment is 35. Individuals must be U.S. citizens or legal immigrants, including citizens of Guam, Puerto Rico, the U.S. Virgin Islands, Northern Marianas Islands, Samoa United States, Federated States of Micronesia, and the Republic of the Marshall Islands.
Applicants who are residents of countries deemed hostile to the United States should be exempted from the examination. A waiver is required if the applicant has two or more dependents. Single parents cannot enlist in the US military. Male applicants need to have a height that ranges between 60 and 80 inches, and female applicants of the US Marines Corps must have a height that ranges between 58 and 80 inches.
The maximum age to enlist in the US Marines Corps is 28 years old. In case there is any single parent who wants to enlist, they must give up legal custody of their children and wait more than a year to enlist. Male Marines must be 58 to 78 inches tall and female Marines must be 58 to 72 inches tall.
Basic training
Basic Training in the US Army lasts 10 weeks and is usually followed by the AIT program (which is also known as the Advanced Individual Training program) where they are trained for their future majors.
Sea boot camp training is more mentally and physically challenging than the basic Marine officer program of any other military service. It lasts 13 weeks and is open to both men and women. Approximately 35 – 40,000 recruits undergo this training every year. They must pass a fitness test to begin training; Those who fail receive individualized attention and training until they pass.
The specific process to become a Marine Corps officer
The Marine Corps initiates youthful men and females of good ethical measures who have/will have a college degree within 4 years, are physically fit, and have illustrated the potential for authority. Candidates must be United States citizens and pass the starting Marine Corps physical wellness test. Moreover, candidates must take either the SAT, ASVAB, or ACT tests.
The least satisfactory scores are a combined 1000 on the verbal and math parcels of the SAT or a 22 score on the ACT test. (Enrolled candidates do not require ACT or SAT scores. The lowest score a candidate attempting to be an enrolled Marine must successfully reach on the ASVAB test has to be a 31.) The only age necessity is that an individual must be from 20 to 30 years old at the time of commissioning. Candidates for law-education programs need to score 30 points on a 50-point scale or 150/180 points on the LSAT test.
Marine Corps officers are strictly chosen from different sources, counting the NROTC (which is also known as the United State Naval Reserve Officers Training Corps) Program, the U.S. Maritime Institute, the PLC (which is often called the United State Platoon Leaders Class) Program, and the OCC (stands for the Officer Candidate Lesson) Program.
Naval Reserve Officers Training Corps (NROTC)
The Naval Reserve Officers Training Corps Program offers educational costs and other money-related benefits at more than 60 of the country's best colleges and colleges. Four-year NROTC grants are accessible to tall school graduates on a competitive determination preparation in which thought is given to such variables as a school record, college board scores, extracurricular exercises, and administration.
U.S. Naval Academy
Since the year 1883, U.S. Marine Corps officers have been commissioned from the U.S. Maritime Institute, where graduating midshipmen win a single man of science degree either in one of seven building programs or in one of 11 disciplines advertised separated from designing programs. Nowadays, about 17% of each graduating lesson gets a standard U.S. Marine Corps commission.
Read more >> How To Become An Army Officer In 2022?
Platoon Leaders Class
The Platoon Leaders Class ( or the PLC for short) Program is for those college first-year recruits, sophomores, and youngsters who choose to seek a Marine Corps officer commission. Application to this program may be made upon effective completion of the primary semester or quarter of the first-year recruit year. Candidates must be seeking a four-year baccalaureate degree from an authorized college. They are qualified to get monetary help after the fruitful completion of their 1st with the training program.
Officer candidates of the Platoon Leaders Class Program go-to summer preparing sessions at the Marine Corps Officer Candidates School which is located in Quantico, Virginia. First-year recruits and sophomores take part in 2 six-week sessions, and youngsters take an interest in a 10-week session. Flying within the Platoon Leaders Class-Aviation Program is accessible to those who qualify. In this program, people can get flight involvement and instruction to familiarize themselves with flying before military flight training. PLC-Law may be a post-baccalaureate degree program for law school participants. The duty is put off until an understudy gets a law degree and passes the bar examination.
Officer Candidate Class
The Officer Candidate Lesson Program is pre-commissioned training for Marine Corps officers who are seniors or graduates. Following graduation from college, candidates attend a 10-week officer preparation course and receive a save commission upon successful completion of the course. In addition to the programs described above, the Marine Corps offers programs for qualified enrolled faculty to obtain commissions as officers. The Marine Enrolled Commissioning Instruction Program, the Meritorious Commissioning Program, and the Enrolled Commissioning Program are all part of these programs.
FAQs
Is it hard to be a Marine Officer?
How Difficult Is Marine OCS? The Marine Officer Candidate School is one of the most difficult officer training programs available. It necessitates physical and mental toughness while operating on little sleep. According to one former Adjutant, the attrition rate for women was 50% and for men, it was only around 25%, and it was "pretty hard."
What is the difference between a Marine and a Marine Officer?
Enlisted Marines comprise the majority of the Marine Corps and range in rank from Private to Sergeant Major. Marine Officers are the leaders of the Marine Corps, with ranks ranging from Second Lieutenant to Four-Star General.
Can an enlisted Marine become an officer?
MECEP is intended to give exceptional enlisted marines the chance to serve as Marine Corps officers. Marines who complete the program successfully receive a baccalaureate degree and a commission as a second lieutenant.
As mentioned in the preceding article, how to become a Marine officer is dependent on a variety of factors. We believe that this article will be useful to you as you work toward becoming a member of the United States Marine Corps. Wishing you the best of luck!