Accounting for nearly 1% of the total U.S. population, joining in the service has long been a prominent part of American lives. Though it has a vast number of military personnel, applying in any branch and passing the ASVAB Scores is no easy task for (some) aspiring applicants.
Like other life-changing courses, embarking on the military journey offers multiple opportunities but can be very perplexing at times, especially when going for it unprepared. As such, you need to undergo series of evaluations that would pre-define your profile. However, before that happens, you'll be necessitated to partake in a standardized aptitude examination established by the US Defense Department.
In connection to this, the test primarily being pointed out is the renowned Army Service Vocational Aptitude Battery (ASVAB) commonly termed as the "ASVAB test." And it's the very first step to knowing more about the Test as well as the passing ASVAB Scores.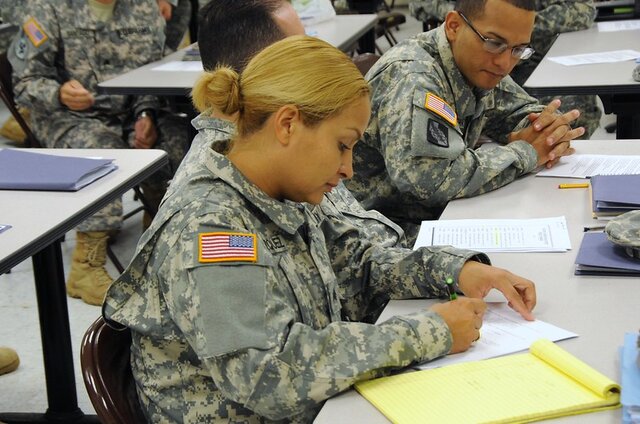 Defining the course of the ASVAB Test
Since its first introduction in the year 1968, it has become a legalized multi-aptitude test which was eventually after 8 years, accustomed by all US military branches. As mentioned above, it is a standardized multifaceted aptitude test augmented by the US Defense Department that is functioned to serve as a determiner in knowing which department is the applicant most suited with and preferably, with higher remarks on the latter.
Each US military branch namely; Army, Air Force, Coast Guard, National Guard, Marine Corps, and the Navy have their own minimum standards which vary uniformly with their own minimum regulated ASVAB Scores.
Take note: All military branches in the United States are required to partake in this ASVAB test by legal measures and underlying regulated context. Relatively, all branches have varying criteria in which you most likely would consider fully equip yourself according to your desired career path in any military branch.
Knowing Further The ASVAB Subject Domains
Having the desire to enlist is not enough to secure your spot in the service or on any military branch. Consequently, this would initially assess your mental aptitude. Not only that, but it also assists in identifying what MOS (Military Occupational Specialties) you are most admissible with.
Moreover, the ASVAB test can also be taken in two ways; either through computerized means at a particular MEPS (Military Entrance Processing Station) or through conventional means via paper and pen to be taken in different Military Entrance Testing Sites (METS) to the particular country you belong or at specified and available colleges and even high schools.
Subject Domains Included in the ASVAB Test
The ASVAB test contains 9 ASVAB sections:
General Sciences – quantifies prior knowledge to earth and life, aerospace sciences, and practical applications of sciences.
Arithmetic Reasoning – ability to analyze and solve simple to advanced arithmetic problems and mathematical word analysis
Word Knowledge – quantifies ability to comprehend the literal and figurative definition of words via synonymous terms.
Paragraph Comprehension – scales ability to acquire definite data from written literature or similar materials
Mathematics Knowledge – scales capacity in learning and applying mathematical concepts and subsequent derivations.
Electronics Information – scales prior knowledge about electromotive force, electric circuits, electronic devices, and electrical-related applications
Auto & Shop Information – scale prior knowledge about locomotive repair and maintenance along with metal and wood methods.
Mechanical Comprehension – quantifies knowledge about certain mechanical principles, structural backing systems, and properties of varying materials
Assembling Objects – measures ability with geometrical and spatial associations.
On this website, we offer a free ASVAB Study Guide pack for all 9 ASVAB sections. We recommend you read these study guides to grasp all the core concepts before taking our ASVAB practice tests. 
Generalized ASVAB Test Minimum Requirements
Keep in mind that this set of minimum requirements are generally organized. In other words, there may be particular differences in each branch. That being said, do call and converse with your local recruiter to better know the requirements of your preferred branch along with its underlying conditions and probable restrictions.
Applicants at the time of the test, must at the very least be 17 years of age, extending only up to 39 years of age.

Those applicants under 18 years of age must bring with them a parent's consent authorized by their parents or their current legal guardian.

For applicants that are US citizens, you must be able to show a document that proves your legal residency.

For applicants from the US commonwealth areas, you can enlist but must show certain documents which would verify your legal presence.

For non-US applicants, one must bear certain documents that validate your legal presence.

Aspired applicants must undergo a military-regulated physical evaluation.

Aspired applicants must undergo a military-regulated mental screening.

Applicants must not have any major pre-existing handicaps or any form of burden-like disabilities unless extraordinarily utilized.

An applicant must be able to pass the ASVAB test with high remarks to guarantee your spot in military service.

Aspiring applicants are necessitated to bring a high school diploma (HSD) for credibility reasons.

Those with high school diplomas usually need to achieve ASVAB scores few points lesser than those bearing a GED certificate

Applicants who possess GED (General Educational Diploma) alone are necessitated to garner a higher score than those who bear a high school diploma.
Minimum ASVAB Scores on All Military Branches
All US military branch has their own set minimum standards along with the necessary ASVAB Scores to enlist in the specific branch. Relatively, the table below would show you the necessary scores to enlist in each branch from the HSD (High School Diploma) holder and the GED bearer.
| Specific Military Branch | HSD Holder | GED Bearer |
| --- | --- | --- |
| Army | 31 | 50 |
| Air Force | 36 | 65 |
| Coast Guard | 36 | 50 |
| National Guard | 31 | 50 |
| Navy | 35 | 50 |
| Marine Corps | 32 | 50 |
Take note: Every specific ASVAB test from any military branch may differ in terms of time duration and level of difficulty. However, it's worth noting that having a lesser score on one subject domain doesn't guarantee an overall failure. Conversely, just being able to achieve the minimum score for enlistment doesn't secure your spot in the service as well.
ASVAB Composite Scores
Also referred to as the 'ASVAB line scores' or 'ASVAB mos scores.' These are the scoring criteria in every military branch. Each may have a different composite score and this will be shown in the succeeding tables below:
Clerical = WK + PC + AR + MK

Combat = WK + PC + AS + MC

Electrical= GS + AR + MK + EL

Generalized Maintenance = GS + AS + MK + EL

Field Armament = AR + MK + MC

Generalized Technicalities= WK + PC + AR

Mechanics = AS + MC + EL

Food Operations = WK + PC + AS + MC

Survey & Communications = WK + PC + AR + AS + MC

Skilled Technicalities= WK + PC + GS + MC + MK
Take note: Knowing your score and fully comprehending its meaning is an essential factor that you need to consider. Through awareness of the result, you'll be able to know your probable weakness in one of the subject domains. Hence, this would motivate you in preparing further for what could possibly be ahead and included in the whole duration of the ASVAB test. Failing can only be in two ways; quitting after the first failed attempt or letting your mistakes be at bay, uncorrected.
It's time to take the ASVAB practice test now! We have to say our National Guard ASVAB practice test is one of the best platforms to practice! 
Last but not least, never mind connecting with us via abc.elearningapps@gmail.com.
Read more >> What is a good ASVAB score?